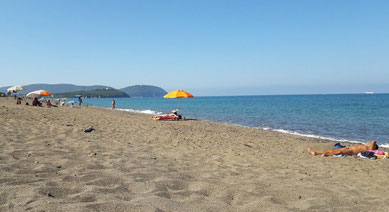 Our experience at Nido's
August 2016: Having the possibility to merge a few days off to the weekend, we take the opportunity to visit the coast south of Livorno, the famous Etruscan Coast.
Then we take accommodation at the Locanda di Terramare, a naturist B & B family-run on the hills of the hinterland of Livorno and the first day we head towards San Vincenzo eager to visit one of the rare Italian official naturist beaches, the Nido dell'Aquila.
Getting to the beach is very simple. We leave the Aurelia state road in San Vincenzo and follow the signs to the Coastal Park of Rimigliano. The road (Provincial Road of the Princess) is a long straight that develops inside the park. Driving towards south, on our right we see the typical Mediterranean vegetation that separates the road from the dunes and the sea. At more or less regular intervals, among the trees, we see the paths of access to the sea marked with numbered signs. The FKK beach is accessed from the path number 9 beginning immediately after a ruined house. Hanging under the sign with the number, a further sign that read "nudist beach" clarifies any our doubt.
We park the car on the left-hand side (the right side is for pay), we take the trail, and after a hundred meters, we enter into the vegetation. Here the path becomes a little bit tight but it's still easy and after a while we come to a dune beyond which there is the beach. The naturist area is immediately to the left, a signboard of the municipality of San Vincenzo, it formalizes the beginning. We walk for a few minutes in order to bring us more or less in the central area so we strip off, install the anti-wind curtain, we spread mats and towels and we are going to live our day to the naturist beach.
The setting is charming and the place, as a whole, looks pretty wild: sea and sandy beach in front of us, dunes and Mediterranean scrub behind. Despite being 4 August crowding it is reasonable, the beach is wide and long, so the distance between a visitor and the other (couples like us, but also different individual) is such as to ensure peace and tranquility for everybody. We were a few hours in absolute tranquility to eat fruit that we had brought with us and to enjoy the sun and sea with only the background noise of the waves voice and the sound of the wind.
(August 2016)
---